Please walk-in to TSO Memorial with red eyes, pink eye, or scratched eyes for immediate attention in Houston, TX.
Eye emergencies +
GUCCI EYE WEAR COLLECTION
Our Gucci eye wear collection is an iconic luxury fashion accessory. Trendsetting, sophisticated & ground-breaking creativity.
Check out our optical +
Made to represent Texas. Contemporary fashion frames with the spirit and passion of Texas. Order online directly.
View the collection +
TEXAS STATE OPTICAL MEMORIAL CITY EYE DOCTORS & EYEWEAR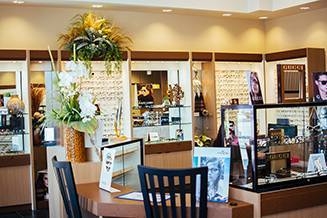 TSO Memorial City Eye Care Center has been caring for the eyes of Houston for over 40 years! At Texas State Optical, we combine the latest technology and years of experience to give you thorough eye examinations, the most up to date contact lenses & fashionable affordable eyewear.
Our Memorial City Eye Care Center is equipped with state-of-the-art technology including the Optos® retinal imaging system, allowing our Memorial City eye doctors to diagnose and manage glaucoma, cataracts, macular degeneration, diabetic retinopathy, and other medical eye conditions. Each of our Memorial City optometrists are also Therapeutic Glaucoma Specialists and are here for your medical eye care needs, including eye emergencies.
May 08, 2019
May is Mental Health Awareness Month in the USA; in Canada, Mental Health week is May 6th to 12th. Since...
SEE WHAT OUR PATIENTS HAVE TO SAY.
Nice and friendly staff. The doctor was very good. The staff made me feel very comfortable. This is why I keep returning.
- Gloria N.
Excellent service. Very informative and thorough. Pleasant atmosphere and staff. Thank you
- Todd M.
Amazing staff! Great Doctor! You guys are the best. Thank you!
- James F.
Late appointments on weekdays (after 5pm) and super accommodating and courteous staff. They are quick if you need to be, but stay longer if you have more questions etc. Just always a pleasure!
- Alyson S.
These guys are absolutely awesome. Fast, professional, and the prices are very very good. My eye exam was so cheap I was shocked when she told me how little it cost. I thought surely she must have made a mistake but nope, they just love doing this work and do it at a fair price.
- Go69
Great eye care and very good customer service!
- Nina D.
Great visit! Prompt service.
- sarah t.
Memorial City Optical Store Near You
The Memorial City Optometrists of TSO treat not only infections and "pink eye" but many other medical eye conditions, such as minor injuries, foreign body removals, corneal abrasions, allergy eyes, and dry eyes. Our Memorial City eye doctors, are qualified to prescribe antibiotic eye drops, steroid eye drops, Restasis® for dry eye syndrome, Pataday®for allergies, and Latisse® to enhance eye lash growth.
Our Memorial City eye doctors co-manage LASIK, Visian ICL, and cataract surgery with local surgeons. For your convenience, the Memorial City eye doctors now offer pre-op and post-op services at our eye care clinic.
If it is time for your annual eye exam or if a vision problem is causing you concern, contact our Memorial City eye care center, or request your next appointment online. We are sincerely committed to our patients and appreciate that they come back to see us. Our Memorial City eye doctor's office is located in West Houston near Hedwig Village. If you are looking for an eye doctor in the Energy Corridor or West Houston, we hope TSO Memorial City will be your choice!
Read more
Q&A with Dr. U
Watch Dr. Eric Underwood Answers Your Eye Care Questions!
At What Age Should Children Have Their First Eye Exam?